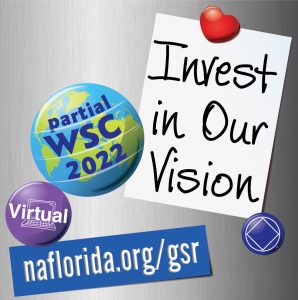 March 18th-20th, 2022
Rosen Centre Hotel
9840 International Drive, Orlando
The bi-annual GSR Assembly is a meeting of all GSRs, RCMs, and members of the Florida Region. We come together to fellowship, grow in unity, and arrive at a regional conscience on a variety of issues, both locally and globally in NA. Per our Second Concept, "The final responsibility and authority for NA Services rest with the Groups".
More information to come! This site will be updated with all the latest information leading up to the assembly.
Please register if you plan on attending the GSR Assembly either in person or virtually!
Hotel booking
Programming: located further down this page
ICC Voting is done here: ICC Ballot

DEADLINE TO VOTE IS MARCH 19, 5PM

ICC and WSC 2022 Materials (redirects to na.org/conference)
Future / Past ICC Workshops

[Previous recordings: links to any previously recorded ICC workshops]
World Board ICC Discussion/Presentation Link February 12, 9am: Zoom link here (this will be replaced by a recording of the presentation afterwards)
Hybrid Workshops (confirm information with your RCM)

Link to attend all workshops virtually: naflorida.org/car
Bermuda (virtual only): February 4th, 4:00-7:00 PM EASTERN
Greater Orlando + Heartland Areas: February 19, 1:30-4:30PM,

Christian Service Center, 808 West Central Blvd, Orlando 32805

Bay + Fun coast + Sun Coast + River Coast + Nature Coast + Recovery Coast Area: February 20, 1:00-4:00PM

Terra Nova, 7550 40th St N, Pinellas Park, 33781

Big Bend + First Coast + Uncoast Area: February 27, 1:00-4:00PM

Westminster Presbyterian Church, 1521  NW 34th ST, Gainesville, 32605
Programming Schedule:
The following is a dummy placeholder for the GSR Assembly schedule on March 19th. This is will change. Stay tuned to this page for the latest updates.
Be sure to stick around on Sunday for RSC!
*NA is not affiliated with the Rosen Centre Hotel